Choral Workshop 2019
Mozart Requiem

Saturday 26 January 2019
9.30am–5.00pm
St Michael's Without, Bath
Our Mozart Requiem workshop on 26 January 2019 was led by not one but two inspirational choral directors. Bath Bach Choir's musical director Nigel Perrin was joined by guest conductor Peter Leech, fresh from directing the annual Tallis Voices promenade concert in Wells Cathedral. Known for his innovative approach to music-making and strong following in the south-west, Peter had struck up an enthusiastic rapport with Bath Bach Choir when he guest-conducted our Venetian Vespers concert at Prior Park. We were delighted to work with Nigel and Peter on aspects of Mozart's seminal choral work, and it was brilliant to see so many guests for this great day of singing.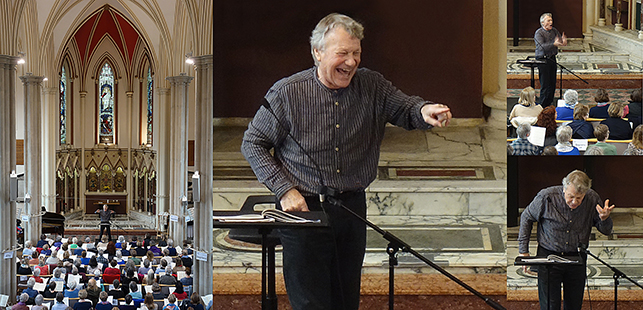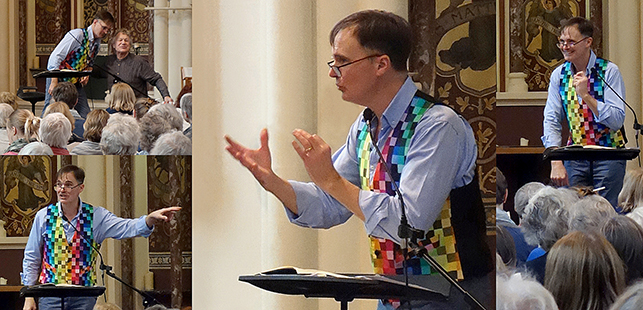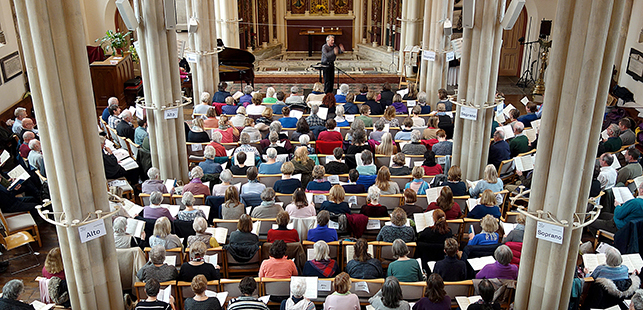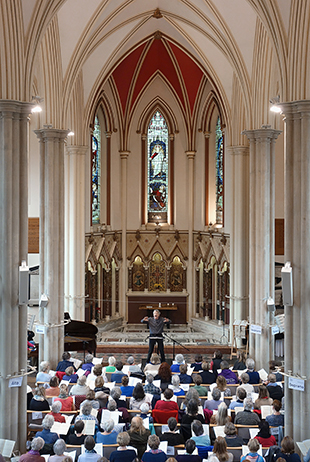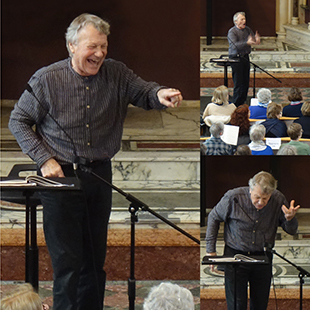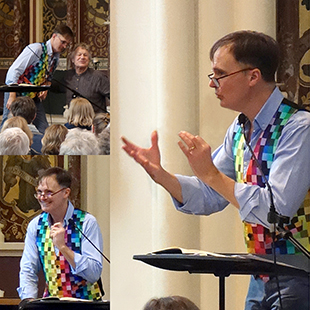 An Evening with J S Bach
Saturday 30 March 2019
7.30pm | Bath Abbey
Motets
Komm, Jesu, komm | Jesu, meine Freude
Singet dem Herrn | Lobet den Herrn
Organ solos played by Marcus Sealy on the Klais organ
Toccata in the Dorian mode (BWV 538)
Sonatina from Cantata 106
Sinfonia from Cantata 29
This intimate concert sees Bath Bach Choir return to its roots, showcasing two contrasting genres of Bach's genius. Interspersed with the choir's performance of four of his outstanding German motets, composed in the 1720s for the choir of St Thomas's Leipzig, Marcus Sealy will perform two of Bach's most scintillating organ works, using the full range of the abbey's magnificent Klais organ.
Bach spent his last 27 years as Kantor (director of music) at the Thomasschule attached to the church of St Thomas in Leipzig. His gruelling workload included teaching, producing music for services at four churches in the town, and providing compositions for important civic occasions. The motets were written during this extraordinarily busy period. In our concert we contrast the joyful sounds of
Lobet den Herrn, alle Heiden
(Praise the Lord, all ye heathens) and
Singet dem Herrn ein neues Lied
(Sing unto the Lord a new song) with the more contemplative
Jesu, meine Freude
(Jesu, my joy) and
Komm, Jesu, komm
(Come, Jesu, come). Bach would occasionally have made use of organ and cello continuo in St Thomas's, and we will be using this authentic device for our concert also.
The last time Bath Bach Choir performed
Lobet den Herrn, alle Heiden
it was in front of Bach's grave at the Thomaskirche in Leipzig – an unforgettable moment in this choir's history. We look forward to giving an equally inspiring performance on 30 March 2019.
Mozart Requiem
Saturday 6 July 2019
7.30pm | Wells Cathedral
Guest artist Carolyn Sampson
Mozart
Requiem
Mozart
Exsultate Jubilate
Haydn
Kyrie & Benedictus from the 'Nelson Mass'
Bath Bach Choir will perform its 2019 summer concert in front of the famous Scissor Arches at Wells Cathedral. The programme, which brings together Mozart's Exsultate Jubilate, excerpts from Haydn's Nelson Mass and the great Mozart Requiem, fulfils a long-held wish of the choir's musical director, Nigel Perrin, to invite coloratura soprano Carolyn Sampson to perform with the choir. Miss Sampson's 2019 schedule includes Bach in Tokyo, Handel in Philadelphia and, now, Mozart in Wells.
Exsultate Jubilate – today one of Mozart's best-known pieces of sacred solo music – is also a piece for which Carolyn Sampson is renowned, having made what is held by many to be the definitive recording. Although Mozart was just 16 when he wrote it, to many it's the sound of a genius at the peak of his imaginative powers. Mozart's Requiem transports us to the far end of his short life, and the work he believed he was composing for his own death, even though history confirms that it was commissioned by an Austrian count. He died before it was completed, and it remains one of the most powerful and poignant pieces in the choral repertoire. In lieu of an overture the concert opens with the 'Kyrie' from Joseph Haydn's so-called Nelson Mass which, along with trumpets and timpani, also showcases the coloratura solo soprano voice.
There is one intriguing link between the elements of this evening's concert. Mozart wrote Exsultate Jubilate in 1773 for an Italian castrato opera singer named Venanzio Rauzzini, to wow audiences in Milan. Rauzzini eventually settled in Bath in 1780 and became director of the New Assembly Room Concerts. Haydn stayed with him as a guest for six weeks in 1794. Rauzzini died in 1810, and is buried in Bath Abbey.
We look forward to a feast of fabulous music for a midsummer's evening in the majestic surroundings of Wells Cathedral.
Carolyn Sampson
soprano
Alison Kettlewell
mezzo-soprano
Nathan Vale
tenor
Stephen Connolly
bass
Southern Sinfonia
Nigel Perrin
conductor
Review by John D Williams:
A capacity audience greeted the conductor, Nigel Perrin, as he took to the stage for last Saturday evening's concert in Wells Cathedral. The vaulted nave with its ornate carvings and stained glass is a magical place to be on a warm summer's evening, and its dimensions, by design or accident, produce an acoustic that is ideal for supporting and carrying the unaccompanied human voice.

Anything involving an orchestra can be tricky and result in a wash of sound for the majority of the audience, but this did not turn out to be the case; partly due to the skill of the performers, but also, largely, to the choice of repertoire. The 80-strong Bath Bach Choir, Southern Sinfonia and a fine team of vocal soloists presented a programme of 18th-century music focusing on Haydn and Mozart. The architectural character inherent in the style allowed for clarity throughout the evening in every part of the building.

The programme was cleverly curated as well. Instead of an orchestral overture, it opened with the Kyrie and Benedictus from one of Haydn's finest works, the Missa in Angustiis(Mass for Troubled Times) or 'Nelson Mass'. The opening of the Kyrie was suitably arresting, a literal call to arms, the choir's precision aided by the fact that the singers had memorised their parts. Then came the passages for solo soprano offering our first opportunity to hear the evening's principal soloist, Carolyn Sampson. Standing in the pulpit she did not disappoint. The Benedictus was then delivered with reverence and poise by all four soloists in ensemble, finished off with an exuberant Osanna in excelsisfrom the choir.

This was followed by Mozart's Exsultate Jubilate, written at the age of 16. Although the three-movement piece has a devotional text, it was conceived as a vehicle to highlight the exceptional vocal talent of the solo performer. (In Mozart's case this was the famous castrato Venanzio Rauzzini who impressed him when they met in Milan; by coincidence Rauzzini spent the latter part of his career in Bath where he directed concerts in the New Assembly Rooms and is buried in Bath Abbey.) With Carolyn Sampson, we knew what we were going to get. The performance was stylish, subtle and virtuosic in every sense. It is not difficult to see why she is lauded as one of the finest sopranos specialising in early repertoire. But she seems to have moved things up a gear. The voice is agile, radiant and rounded. The detail in the articulation of the coloratura in the final Alleluia was jewel-like and astonishing. But there is also warmth, weight and generosity of tone that's not always the case with singers in this repertoire.

The whole of the second part of the evening was devoted to Mozart's Requiem in D minor in the oft-performed version completed by his pupil, Franz Süssmayr. It's a piece shrouded in mystery as it is Mozart's final unfinished work. The informative programme notes not only placed it in context but traced the origins of its mythical status back to the composer himself. In failing health in the summer of 1791, Mozart started to attribute sinister connotations to the commissioning of the piece by an anonymous patron. He died in December of the same year. Today it endures as a staple of the choral repertoire and while there are some staples that cannot be derailed in performance, Mozart's Requiem can fall flat.

Nigel Perrin doesn't do dull! We were treated to a thrilling performance. The choice of speeds perfectly balanced the stylistic constraints of the music with the need to be intelligible. Consequently the performance delivered all of the light and shade in the text. It's a considerable task for composer and performer alike since it covers everything associated with the afterlife, from the Day of Judgement to the serenity of eternal peace. Thus the Dies Irae (Day of Wrath) was terrifying but delivered with refinement. This was not the nightmare conjured in Verdi's later setting, rather an apocalyptic vision handpainted on Meissen porcelain. In the Confutatis in the midst of the accursed being given over to bitter flames, there was restraint, tenderness and vulnerability in the pleading interjections of 'voca me …' (call me with the blessed).

Such choral precision does not happen overnight. These were well-trained singers, whose director made sure that the sound produced in every vocal part was clear, supported and homogenous, unafflicted by any excessive vibrato. At the same time they didn't sound over-drilled to the point of being robotic. There was flexibility and apparent spontaneity. All of which comes from a long relationship with a conductor who must be one of the most compelling directors of musical forces in the UK.

Then there were the soloists. Stephen Connolly's bass traded resonance with the beautifully executed trombone solo in the Tuba Mirum to great effect and went on to underpin some exemplary ensemble work. The tenor Nathan Vale's moments were all well-judged and balanced in ensemble and admirably authoritative and commanding in solo passages. Alison Kettlewell proved to be a wonderful velvety mezzo-soprano filling the space with ease and Carolyn Sampson excelled as expected. The Recordare provided the platform for how effective they were together. They didn't compete; neither did they submit to a form of underdeveloped consort singing. Chorus and vocal soloists inevitably demanded our attention.

Southern Sinfonia, led by Simon Chalk, is reputed to be the leading professional chamber orchestra in the south. Little wonder then, after the vault had carried away the echo of the final sublime '... quia pius es.' (Thou art merciful) to a place of silence, the audience rose to their feet.
The Long Day Closes
Saturday 26 October 2019
7.30pm | Prior Park Chapel, Bath
Josef Rheinberger's double-choir a cappella Cantus Missae (1878), around which our autumn programme is shaped, was composed 15 years after Prior Park Chapel was built. In harking back to late-Renaissance splendour – the mass with its joyful, lyrical antiphony, the chapel with an acoustic that resonates through its soaring arches – they belong to each other perfectly. The mass is one of conductor Nigel Perrin's favourite works, although it is not Rheinberger's best known: that honour falls to Abendlied (Evening Song) which forms the theme for the rest of this evening's collage of beautiful choral music.
Inspired by the going down of the day – both literal and metaphorical – the programme moves from a Renaissance compline to Sullivan's emotive The Long Day Closes, via Gibbons, Pearsall, Rachmaninov and contemporary favourite Ola Gjeilo. Adding a layer of improvisation over several of the songs, saxophonist Katie Bunney (Bath Young Musician 2018) will complete our ethereal sound-world.
Katie Bunney
saxophone
Marcus Sealy
keyboard
Nigel Perrin
conductor
Review by David Roberts:
Bath Bach Choir warmed the hearts of many as the depth of their voices echoed between the columns of Prior Park College Chapel. An impressive, dispersed and articulate programme of music, featuring works by Sullivan, Pearsall, Gjeilo, Morales and Rheinberger allowed one of our city's finest choirs to stun a receptive audience.

This choir succeeds in the pure quality of its ladies voices supported by what is an exceptionally rich male tone, creating an ethereal sound. A truly spectacular evening led by the buoyant and expressive conducting of Nigel Perrin, complemented by the simplicity of Katie Bunney's improvisation, enabled the choir to showcase refined diction, phrasing, blend and dynamic contrast. Perrin's contemplative and poignant programming ensured time and space met at the close of the day.
Carols by Candlelight 2019
18 December 2019
7.30pm | St Michael's Without, Bath
19 & 20 December 2019
7.30pm | The Pump Room, Bath
Bath Bach Choir's much-loved annual entertainment, marking the true start of Christmas in Bath, includes seasonal songs, a touch of jazz, young virtuoso musicians, local children's choirs and conductor Nigel Perrin's audience-rousing repartee.
Marcus Sealy
accompanist
Nigel Perrin
conductor