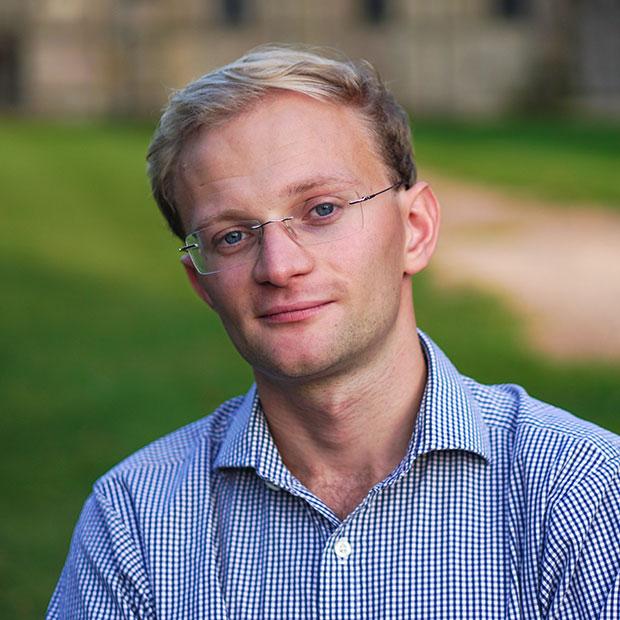 Benedict Collins Rice
musical director
In January 2023 we welcomed Benedict Collins Rice as our new Musical Director.
Originally from Oxfordshire, Benedict held two conducting scholarships at Cambridge University before continuing his studies with the Heads of Conducting at the Royal College of Music, Royal Northern College of Music, Vienna University of Music and Birmingham University where, under Simon Halsey, he gained the course's highest-ever conducting mark.
Benedict is founder and artistic director of The Facade Ensemble, a dynamic group of instrumentalists and singers which specialises in 20th-century chamber music and is noted for its performances of 'vivacity and wit'. The group is currently in its third year as Ensemble in Residence at The Courtauld Institute.
He follows in the footsteps of Holst and Tippett in holding the post of Lecturer & Choir Tutor at Morley College, conducts the West Kent County Youth Orchestra and is musical director of Ipswich Chamber Choir, Bury Bach Choir and Mid Norfolk Singers. His current choirs attest to his 'knowledge, style, inspiration, enthusiasm and love of music', as well as his sense of fun. Often in demand as a guest conductor, he has worked with the Berlin Sinfonietta, assisted with the BBC Concert Orchestra and conducted the Southbank Sinfonia and British Youth Opera.
Benedict works with a number of opera companies, including Rose Opera and All Aboard Opera, in projects ranging from large-scale Wagner productions to a Choose-Your-Own-Adventure version of
Dido
.
Benedict has performed through Europe and the US, recorded for several labels, worked for BBC and NBC Television and the BFI, and broadcast live on Radio 3.
He is a professional tenor, composer and arranger; he plays both piano and French horn.