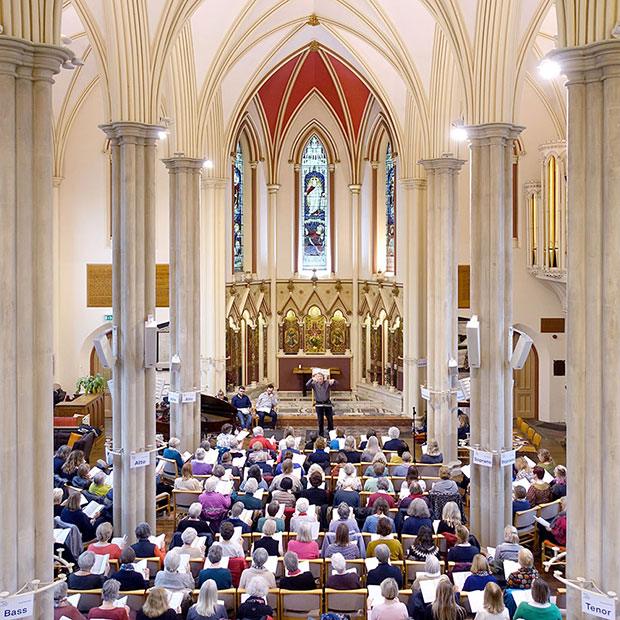 Join the choir for a fun and rewarding day of singing under the masterful direction of Nigel Perrin.
Nigel Perrin
workshop director
Marcus Sealy
piano
The workshop will take place at St Mary's Church, Bathwick, with reduced numbers in order to keep everyone safe. This much-loved, spacious church is about a 15-minute walk from the centre of Bath and from most car parks (no parking on site). Weather permitting, we'll take breaks in the garden, and Di Shelley will run her legendary raffle. Once you've registered, we'll keep you updated by email on all our safety procedures for the day.
Tickets
£27
Score hire (Ricordi)
£2
The safety and well-being of our visitors and choir members are paramount. We have therefore decided to continue to follow a number of Covid-19 protocols which will make this workshop a little different from previous events. There will be social distancing between singers (unless you book as a pair in the same voice part) and social distancing must be maintained at all times inside the church. We will operate one-way systems for arrival, departure and bathroom breaks. Participants are asked to take a Lateral Flow Test before attending and wear a face mask inside the church and halls when not singing. Numbers will be restricted, so early booking is advised!
Any queries:
workshops@bathbachchoir.org.uk
Brahms, A German Requiem – 2021 choral workshop
Our choral workshop on 25 September 2021 was a day of soul-stirring live music as we shone a spotlight on Brahms' A German Requiem to study and sing together under the masterful direction of Nigel Perrin, accompanied by piano (Marcus Sealy) and soloists (Alice Leebetter
soprano
& James Berry
baritone
).
The work, which takes the German lyrics from Martin Luther's bible rather than the Latin text of the Roman Catholic mass, was described by Clara Schumann as "an immense piece that takes hold of one's whole being like very little else. The profound seriousness, combined with all the magic and poetry, has a wonderful, deeply moving and soothing effect." Brahms himself called it "a human requiem", weaving together themes of consolation for the living as well as ideas on the life to come.
The workshop took place at St Mary's Church, Bathwick, with reduced numbers in order to keep everyone safe. It was great to see many of our regular guests, a number of whom had not had the chance to sing with their regular choirs since early last year.
Verdi & Vino – our tremendous choral workshop in 2020
It was a wonderful day of singing and camaraderie on Saturday 25 January, when over 200 participants came together at St Michael's Without to study 'the best opera that Verdi never wrote'. We chose Verdi's Requiem for this year's workshop because it's a fantastic 'sing', with theatrical arias and huge choruses. Maestro Perrin directed the music with customary aplomb, expertly accompanied by Marcus Sealy who negotiated a breathtaking number of notes during the day; Di Shelley masterminded her famous raffle, the Verdi & Vino wine bar ran all day, and 'MC' Peter kept us all on schedule.
For the afternoon session and final sing-through we were joined by four professional soloists: Maria Danishvar-Brown
soprano;
Nina Alupii-Morton
mezzo-soprano;
Chris Why
tenor;
and James Berry
baritone.
"
Just a quick note to thank you all for organising such a fun day. It was my first choral workshop with you and I was afraid I'd find it impossible but instead I felt encouraged by the support, direction and humour from Nigel and my surrounding choristers. I'm planning to be back next year!
Maria, 2020 participant