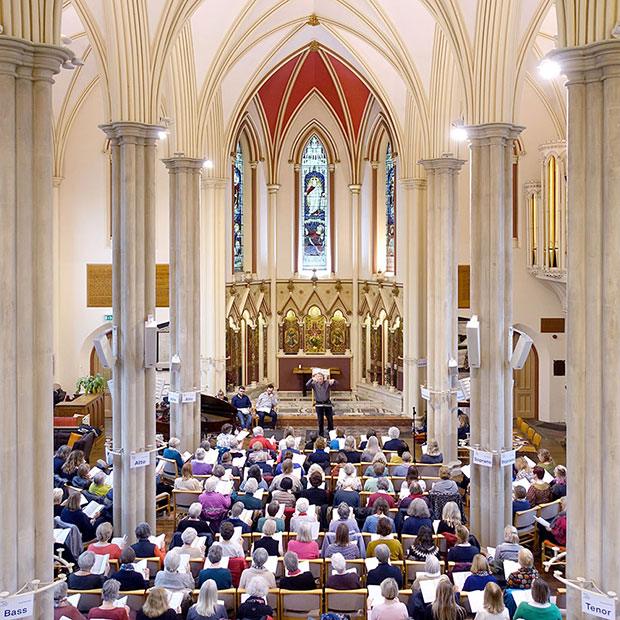 Come and join us for a fun day of singing and choral camaraderie, expertly led by Nigel Perrin. More information soon.
Sign up to our mailing list if you'd like to receive advance notice of future workshops and details of how to book your place:
Verdi & Vino – our tremendous choral workshop 2020
It was a wonderful day of singing and camaraderie on Saturday 25 January, when over 200 participants came together at St Michael's Without to study 'the best opera that Verdi never wrote'. We chose Verdi's Requiem for this year's workshop because it's a fantastic 'sing', with theatrical arias and huge choruses. Maestro Perrin directed the music with customary aplomb, expertly accompanied by Marcus Sealy who negotiated a breathtaking number of notes during the day; Di Shelley masterminded her famous raffle, the Verdi & Vino wine bar ran all day, and 'MC' Peter kept us all on schedule.
For the afternoon session and final sing-through we were joined by four professional soloists: Maria Danishvar-Brown
soprano;
Nina Alupii-Morton
mezzo-soprano;
Chris Why
tenor;
and James Berry
baritone.
"
Just a quick note to thank you all for organising such a fun day. It was my first choral workshop with you and I was afraid I'd find it impossible but instead I felt encouraged by the support, direction and humour from Nigel and my surrounding choristers. I'm planning to be back next year!
Maria, 2020 participant