Carols by Candlelight
An entertainment for Christmas
Bath Bach Choir's much-loved annual entertainment, marking the true start of Christmas in Bath, includes seasonal songs, a touch of jazz, young virtuoso musicians, local children's choirs and conductor Nigel Perrin's audience-rousing repartee.
Dates for 2020: Wednesday 16, Thursday 17 and Friday 18 December.
"
Bath Bach Choir each year brings Christmas to Bath with its Carols by Candlelight, a programme that blends the traditional with the original, the festive with the fantastic. The choir was conducted by Nigel Perrin, whose humour created a warm and relaxed atmosphere, encouraging the audience regularly into song throughout the evening – an evening that lifted spirits and brought home the true magic of Christmas. Hearing Bath Bach Choir proved to be a real treat, one I will not reserve for just Christmastime.
Beverley Willbourne, review of Carols by Candlelight 2018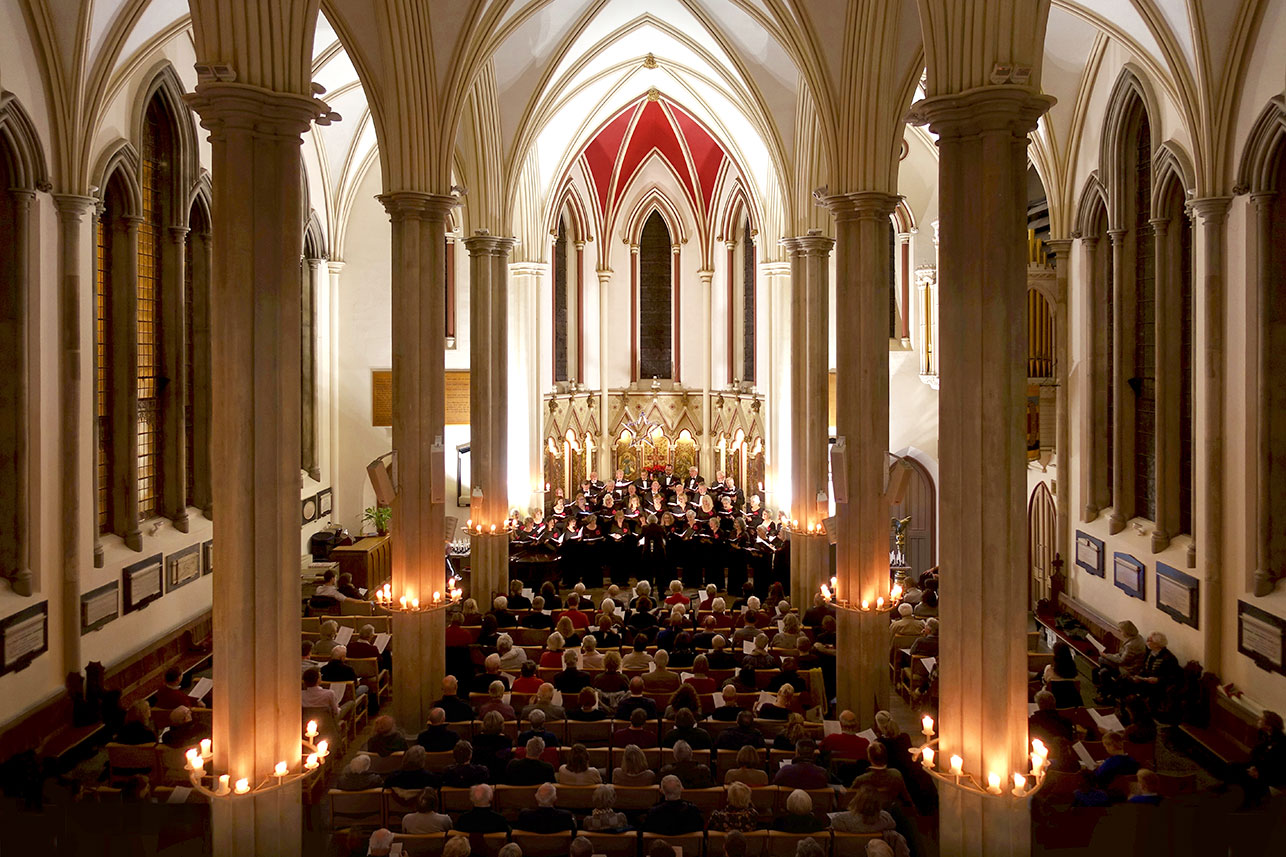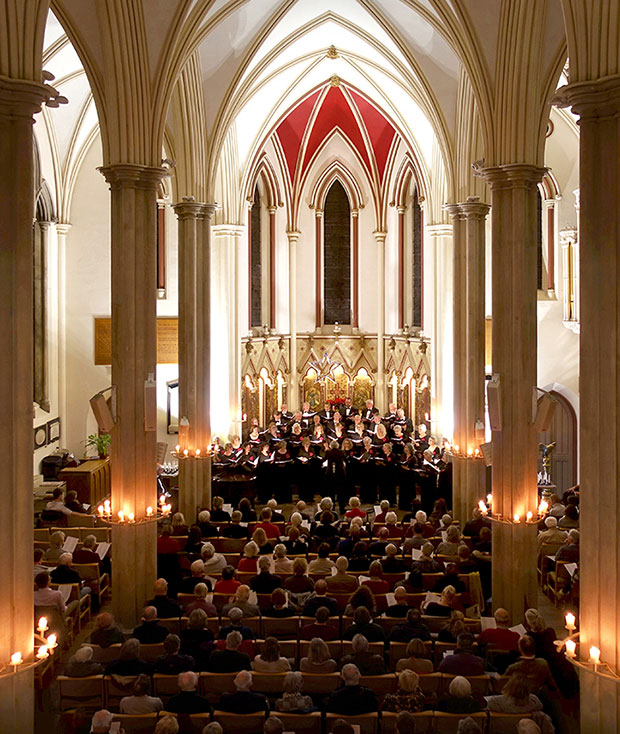 Each night, a retiring collection is taken to support two charities. The choir is grateful to its audience of 2019, whose generous donations meant that £2,000 could be shared between 
Julian House
 and 
Citizens Advice Bath & North East Somerset
.
Ring the Bells, Crisis & Julian House
Ring the Bells
 – the final piece in our 2019 Carols by Candlelight programme – was commissioned by the London Philharmonic Choir and its first performances given at the Royal Albert Hall in December 2017. Royalties from the LPC's downloadable recording and sales of the music were pledged to the Crisis charity in support of its plan to end homelessness. Crisis continues to benefit from these royalties, with 46 choirs around the UK programming the piece this Christmas. In addition, half of our retiring collection will be in aid of our local homeless charity. Julian House operates over 40 life-changing – and, in some cases, life-saving – projects, accommodation sites and social enterprises in Bath and the surrounding area, including an emergency hostel.
www.julianhouse.org.uk
Citizens Advice Bath & North East Somerset
An independent local charity run by compassionate citizens who have experience and professional expertise in a variety of topics, Citizens Advice serves all of Bath and North East Somerset. The service is driven by a passion for helping people in our community, who might otherwise suffer in silence, to get justice. It offers free, non-judgmental, confidential and expert advice and support with multiple complex issues, from benefit applications to mental health to holding an employer to account.
www.citizensadvicebanes.org.uk
2018
The Carers' Centre
ChallengeAid
2017
Bath Welcomes Refugees
St Peter's Hospice
2016
Young Carers Development Trust
Samaritans of Bath & District
2015
Genesis Trust
Soundwell Music Therapy Trust
2014
'Singing for the Brain' at the Peggy Dodd Centre, Bath
2013
Connect – the communication disability network
East Meets West India
2012
The Children's Society
Bath Cancer Unit Support Group